This Nectars Sign Deal With UAP.
Umbrella Artist Productions are proud to announce the signing of US punk rock band, The Nectars!
The Nectars' punk inflamed guitars, inventive harmonic motion, trashy beats and raw vocals lay a foundation influenced by EDM, funk and scorching live performance. Their approach harks back to the punk / pop scene New York circa 1975 but brings a modernity of sound and approach that only new millennial techno creatives can lay claim to.
The band will be releasing their first single HEAVEN on the 8th of December.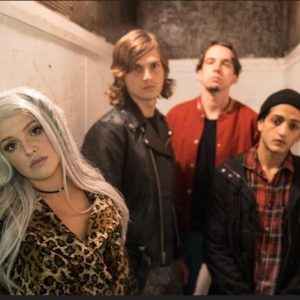 FKP Scorpio partner with new "Umbrella" Management Collective.
Recording, Publishing and Touring venture combine to launch new artists.
Reeperbahn Festival 2017 saw the official unveiling of Umbrella Artist Productions (UAP) which will provide a launch pad for new talent, utilizing the live touring and festival expertise of pan European promoter FKP Scorpio, the label services and digital marketing of Warner ADA, the publishing, synch and licensing support of Kobalt Music.
With offices in London and Berlin, UAP will represent a collective of international artist management companies sharing knowledge, contacts and networks but specifically working closely throughout Europe with the FKP Scorpio live concerts and festival business with particular focus on the UK and German markets.
Founding managers Ulysses Huppauff (Odyssey Music Management DE), Markus Hartmann (Celsius Management DE), James Cassidy and Barry Campbell (Jaba Music Management UK) are actively encouraging management companies interested in an innovative release and mutual support mechanism to join UAP. The collective will help shape a pan European network and product releases to support the career of new artists in an ever competitive marketplace.
"UAP will provide an excellent platform to launch talented young artists. With the expertise of well-respected managers in various countries combined with our know-how at FKP Scorpio as a pan-European promoter, we have the opportunity to develop the careers of promising artists from scratch. We are very excited about this unique set-up and are looking forward to working with our network of managers and their artists." Freddie de Wall – COO FKP Scorpio
"With all amazing opportunities in the era of streaming, one question remains unanswered – who will be able and willing to invest into new artist development. With UAP we finally have an option" Ulysses Huppauff, Odyssey Music Management.
"UAP put live performances top of the priority list to kick-start a new band's career with release and promotion schedules enhancing the touring and the ever more important festival plot" Barry Campbell, JABA Music Ltd.